What is the Birdhouse Project?
The Birdhouse Project is the first project-based healing tool of its kind. It was built around the belief that growth is most evident when people experience, reflect on that experience, and act in more beneficial ways because of their examined experience.

Loss can feel traumatizing; stifling the growth, progress and happiness of all those affected. Traditional grief counseling emphasizes stages and recovery, but these don't always speak to an individual's experience.
The Birdhouse Project is a reflective, tangible tool of self-discovery that can be used to identify the areas of life, grief or crisis that are not working for you. These realizations will help you make sense of the difficult circumstances surrounding your experience and help you find a direction for moving forward.
So when you're ready - not ready to "get over it", but ready to get beyond it, beyond the draining, debilitating feelings of loss – the walls of the birdhouse are here to help you make sense of your tragedy.
Once the right questions have been asked, it's easier to make sense of the answers. Over time, it will be easier to witness and appreciate (yes, appreciate) how much richer we are for the gifts these relationships and trying experiences have bestowed upon us.
Start Your Project
There are no magic answers to picking up the pieces and moving forward after catastrophic change. But there is a way to pick up the pieces and move forward in a way that is sensitive and empowering: a way to look at our experiences as an opportunity for growth. 
Below we've provided a visual of the steps and experiences that you will explore by participating in your own The Birdhouse Project.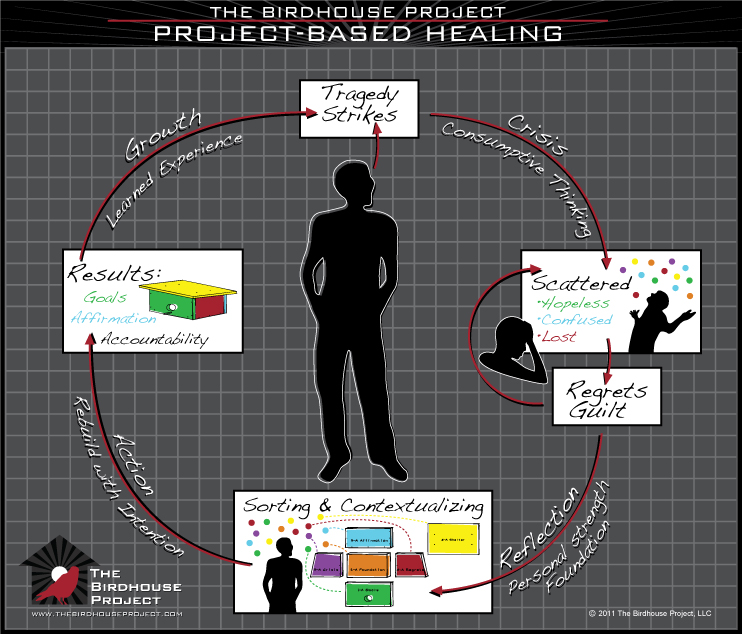 The Birdhouse Project cannot promise healing for everyone, but it does facilitate a deep look into our feelings to see what we can only learn by being open to life's greatest lessons. What it can do is provide tools to start restoring order to the chaos, helping us find our foundations, rebuild ourselves and learn to live again.
Kris has prepared a self-discovery home tool kit, allowing you to experience your personal journey at your own pace.  Learn more
If you represent a support group, school, church or professional organization interested in learning more about The Birdhouse Project review our Workshop page.