Arrange to Bring The Birdhouse Project to Your Community

The Birdhouse Project offers workshop and presentation style speaking engagements that you can plan and host in your community, learn more about them.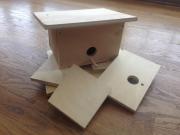 Single Wooden Birdhouse
$15.00
Have a book already and just want to build another birdhouse? Want to share the power of this metaphor with a friend? Here is an extra wooden birdhouse.
Pages